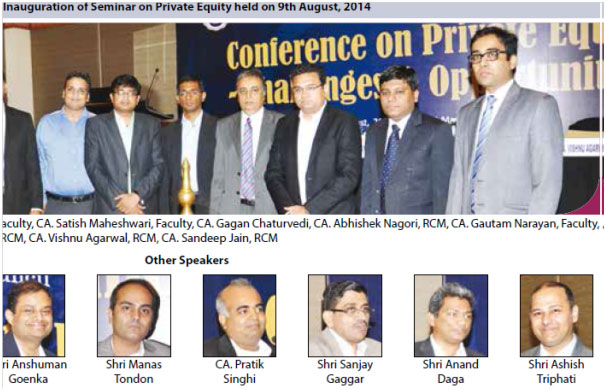 August 2014
CFO Services - Making Companies growth ready to tap capital
IxCFO in very recent past, assisted businesses in raising US$60 Million funding by providing support on entire process viz. Valuation, Due Diligence, Legal execution support as a part of CFO Services mandate.

Please find enclosed presentation link on knowledge sharing platform made at a recent ICAI-PE Conference
June 2014
Effective Score Keeping & Cost of Finance Function (COFF): Role of CFO/Financial Controller

Finance & Accounting (F&A) organisation is centre of attention as business scales up with more zeroes are being added on top-line and CFO/FC (Chief Financial Officer/Finance Controller) needs to gear up to taper the challenges of rising COFF.

For an SME, cost of finance function (COFF) is a function of how business owner would like to release its own bandwidth in terms of diverting it's time to business. Smart business owner would start building the finance function by in-house hiring or outsourcing competent professional service provider to manage its F&A function. In a situation like this, CFO need to play important role by not losing quality of score keeping function by delivering accurate data with quality analytics to business owner. COFF has typical following components:
Cost to Company (CTC) of finance team/Service charges of outsourcing agency
Overheads (Seat/HR cost) on F&A team
Automation platform cost – Amortisation of hardware & new software license/customised spending on IT, on-going support & AMC
Based on prevailing scenario, COFF is generally 1-2% of top-line (revenue) in an established organic business growth scenario and 2-4% in a business which is churning hyper growth rate via inorganic ways by doing say M&A acquisition, PE/VC /JV partner fund raised.

Other way for early stage venture (may be product or market development / R&D Company) is to find out total burn rate and within that how much is the F&A cost? One need to raise an alarm, when COFF is higher than benchmark support cost for other internal functions like HR, IT, Admin or benchmark industry/peer group cost.
http://smeworld.asia/All.aspx?Category=58/coff
April 2014
IxCFO Partnered with ASSOCHAM : Round-Table Conference on "CFO's Agenda for Economic turn-around" in New Delhi – 25th April 2014 http://www.assocham.org /events/showevent.php?id=1003 http://www.assocham.org /events/recent/showevent.php?id=990
April 2014
The Global ANALYST, Sanjay Gaggar, Founder Partner, IixCFO, shares his firm's objectives, growth opportunities

Mumbai, April 30, 2014 - Going by forecasts of industry bodies and researchers, India is well poised to emerge as the SME nation, with a large and growing pool of small and medium enterprises as the trend of entrepreneurship gathers momentum. However, at the same time the industry is faced with a slew of challenges such as resource constraints, rising costs, talent crunch, etc. Read More
January 2014
IxCFO ( Represented by Mr. Sanjay Gaggar) was one of the judge at the Grand Finale of Techunt 2013 - India's 1st talent hunt for entrepreneurship, a joint initiative of Nurture Talent Academy and Computer Society of India.
There were top 30 teams from colleges and top 30 school students present their ideas, prototypes and plans. Here is a summary of what was accomplished so far as a precursor to Finale of Techunt 2013: Colleges selected for stage 1 training workshops - 50+ across India. Students participated in Mobipreneur/Webpreneur/Idea2Execution workshops - 3000 approx. No of cities covered - 25+ inlcuding Metros and Non-Metros. Mentor Boot-camps conducted - 5 cities. Winner Teams for Grand Finale - 30 teams having mobile application and web related ventures.